An attempt at exhausting a place: Barcelona University Square
Resum
Emulating the work by Georges Perec on the Saint-Suplice square, this article presents the University of Barcelona square as the backdrop for three different literary works whose fictional plots help us to revaluate the social characteristics of the city. Based on the analysis of certain chapters from Nada, by Carmen Laforet, Maletes perdudes, by Jordi Puntí, and Puja a casa, by Jordi Nopca we can see the evolution of the space in relation to the expectations of Barcelona's youth during the grey post-war period, the 1960s and the absence of the social revolutions and the globalisation associated with the economic crisis of the beginning of the 21st century.
Descàrregues
Les dades de descàrrega encara no estan disponibles.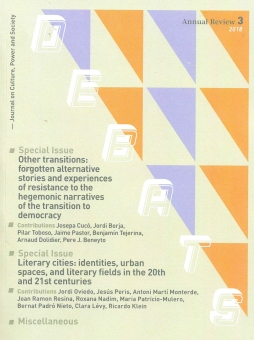 Descàrregues
Com citar
Patricio-Mulero, M. (2019) "An attempt at exhausting a place: Barcelona University Square", Debats. Revista de cultura, poder i societat, 3. Available at: https://revistadebats.net/article/view/1762 (Accessed: 28 January 2023).
Llicència
Sense perjudici del que disposa l'article 52 de la Llei 22/1987 d'11 de novembre de Propietat Intel·lectual, BOE del 17 de novembre de 1987, i conforme a aquest, els/les autors o autores cedeix/en a títol gratuït els seus drets d'edició, publicació, distribució i venda sobre l'article, per tal que siga publicat a Debats. Revista sobre cultura, poder i societat.
Debats. Revista de cultura, poder i societat es publica sota el sistema de llicències Creative Commons segons la modalitat "Reconeixement – NoComercial (by-nc): Es permet la generació d'obres derivades sempre que no se'n faça un ús comercial. Tampoc no es pot fer servir l'obra original amb finalitats comercials".
Així, quan l'autor/a envia la seva col·laboració, accepta explícitament aquesta cessió de drets d'edició i de publicació. Igualment autoritza Debats. Revista de cultura, poder i societat la inclusió del seu treball en un fascicle de la revista perquè es puga distribuir i vendre.