Presentation of the Monographic Issue. Tweeting, Posting, Blogging: Feminist features in the battle against sexist violence and for peace and equality
Resum
Presentation of the Monographic Issue. Tweeting, Posting, Blogging: Feminist features in the battle against sexist violence and for peace and equality
Descàrregues
Les dades de descàrrega encara no estan disponibles.
Referències
Anderlini, S. N. (2018). Challenging Conventional Wisdom, Transforming Current Practices: A Gendered Lens on PVE, Transforming Current Practices. In B. Austin and H. J. Giessmann (ed.), Transformative Approaches to Violent Extremism. Berlin: Berghof Foundation.
Bloom, M. (2011). Bombshell: Women and Terrorists. London: Hurst.
Bunch, C. (2001). Women's Human Rights: The Challenges of Global Feminist andDiversity. In M. DeKoven (ed.), Feminist Locations: Global and Local, Theory and Practice. New Brunswick: Rutgers.
Castells, M. (2012). Networks of Outrage and Hope. London: Cambridge Polity Press.
Crenshaw W., K. (1989). Demarginalizing the Intersection of Race and Sex: A Black Feminist Critique of Antidiscrimination Doctrine, Feminist Theory and Antiracist Politics. University of Chicago Legal Forum, 1989, Article 8.
Collins, P. H. (2000). Black Feminist Thought: Knowledge, Consciousness and the Politics of Empowerment. New York: Routledge.
Chamberlain, P. (2017). The Feminist Fourth Wave: Affective Temporality. Palgrave Macmillan.
Dean, J. and Aune, K. (2015). Feminism Resurgent? Mapping Contemporary Feminist Activisms in Europe. Social Movement Studies, 14(4): 375-395.
Friedman, E. J. (1995). Women's Human Rights: The Emergence of a Movement. In J. S. Peters and A. Wolper (1995), Women's Right, Human Rights (p. 18-35). New York: Routledge.
Friedman, E. J. (2005). The Reality of Virtual Reality: The Internet and Gender Equality Advocacy in Latin America. Latin American Politics and Society, 47, 1-34.
Haraway, D. (1988). Situated Knowledges: The Science Question in Feminism and the Privilege of Partial Perspective. Feminist Studies, 14(3), 575-599.
Hooks, B. (1986). Ain't I a Woman: Black Women's Rights Feminism. London: Pluto Press.
Khoja-Moolji, S. (2015). Becoming an 'Intimate Publics': Exploring the Affective Intensities of Hashtag Feminism'. Feminist Media Studies, 15(2), 347-350.
Leatherman, J. L. (2014). Violencia sexual y conflictos armados (Ana and Maria Villellas,translation). Barcelona: Edicions Bellaterra.
Magallón, C. (2010). Decidir en los procesos de paz, un derecho de hombres y mujeres. ¿Qué ha aportado la Resolución 1325 del Consejo de Seguridad? Papeles de relaciones ecosociales y cambio global, 109, 45-56.
Magallón, C. (2012). Contar en el mundo. Una mirada sobre las relaciones internacionales desde las vidas de las mujeres. Madrid: Horas y horas.
Massey, D. B. (1994). Space, Place, and Gender. Mineápolis: University of Minnesota Press.
Maxfield, M. (2016). History Retweeting Itself: Imperial Feminist Appropriations of 'Bring Back Our Girls'. Feminist Media Studies, 16(5), 886-900.
Mohanty, C. T. (1984). Under Western Eyes: Feminist Scholarship and Colonial Discourses. Boundary 2, 12(3), 333-358.
Rovira, G. (2017). Activismo en red y multitudes conectadas: Comunicación y acción en la era de Internet. Barcelona: Icaria.
Sassen, S. (2007). Una sociología de la globalización. Buenos Aires: Katz Editores.
Sassen, S. (2015). Expulsiones. Buenos Aires: Katz Editores.
Segato, R. (2016). La guerra contra las mujeres. Madrid: Traficantes de sueños.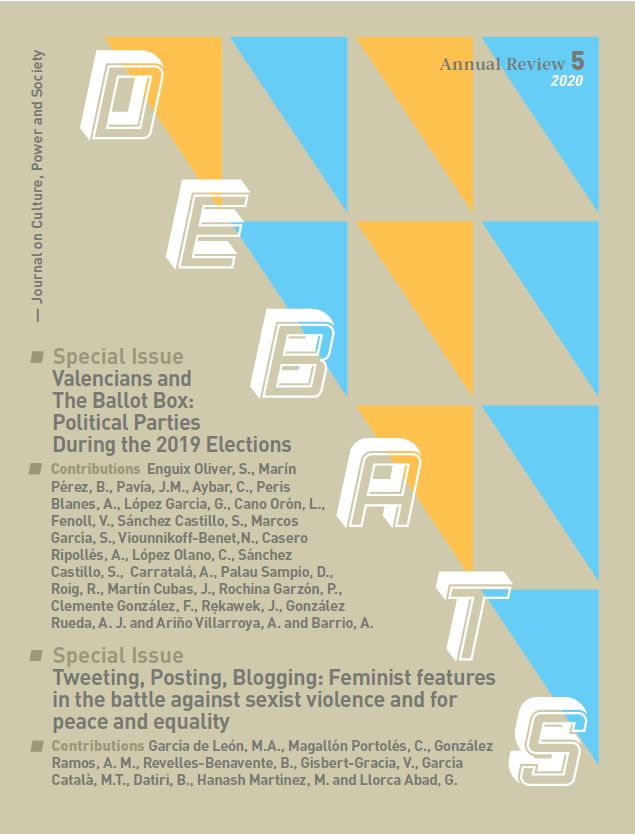 Descàrregues
Com citar
González Ramos, A. M. (2021) "Presentation of the Monographic Issue. Tweeting, Posting, Blogging: Feminist features in the battle against sexist violence and for peace and equality", Debats. Revista de cultura, poder i societat, 5, pp. 211–215. Available at: http://revistadebats.net/article/view/2798 (Accessed: 30 July 2021).
Llicència
Sense perjudici del que disposa l'article 52 de la Llei 22/1987 d'11 de novembre de Propietat Intel·lectual, BOE del 17 de novembre de 1987, i conforme a aquest, els/les autors o autores cedeix/en a títol gratuït els seus drets d'edició, publicació, distribució i venda sobre l'article, per tal que siga publicat a Debats. Revista sobre cultura, poder i societat.
Debats. Revista de cultura, poder i societat es publica sota el sistema de llicències Creative Commons segons la modalitat "Reconeixement – NoComercial (by-nc): Es permet la generació d'obres derivades sempre que no se'n faça un ús comercial. Tampoc no es pot fer servir l'obra original amb finalitats comercials".
Així, quan l'autor/a envia la seva col·laboració, accepta explícitament aquesta cessió de drets d'edició i de publicació. Igualment autoritza Debats. Revista de cultura, poder i societat la inclusió del seu treball en un fascicle de la revista perquè es puga distribuir i vendre.