Right-wing populism's (ab)use of the past in Italy and the Netherlands
Stefan Couperus

UNIVERSITY OF GRONINGEN

Pier Domenico Tortola

UNIVERSITY OF GRONINGEN
Resum
Historical analysis is increasingly used as a tool in the study of present-day populism in Europe. The past is often explored as a source of analogies through which to examine today's populism, and at other times in search of causal mechanisms to explain the current populist wave. In this paper we focus on a third kind of link between populism and the past, namely the ways populist movements and leaders use and abuse history and historical memory in their quest for mass support. This angle on the populism/history nexus can yield deep insight into the ideological make-up of these movements and their voters, and populism's discursive dynamics and strategies.
Focusing on contemporary right-wing populism and its approach to the dark past of European countries, the paper conducts an exploratory analysis that posits three ways in which the past is (ab)used by populists: (a) the positive reassessment of dark history; (b) the recourse to fake history; (c) the evocation and subsequent denial of links with the dark past. In examining each, we use examples taken from the cases of Italy and The Netherlands to check the plausibility of our categories across different national cases. 
##plugins.generic.usageStats.downloads##
##plugins.generic.usageStats.noStats##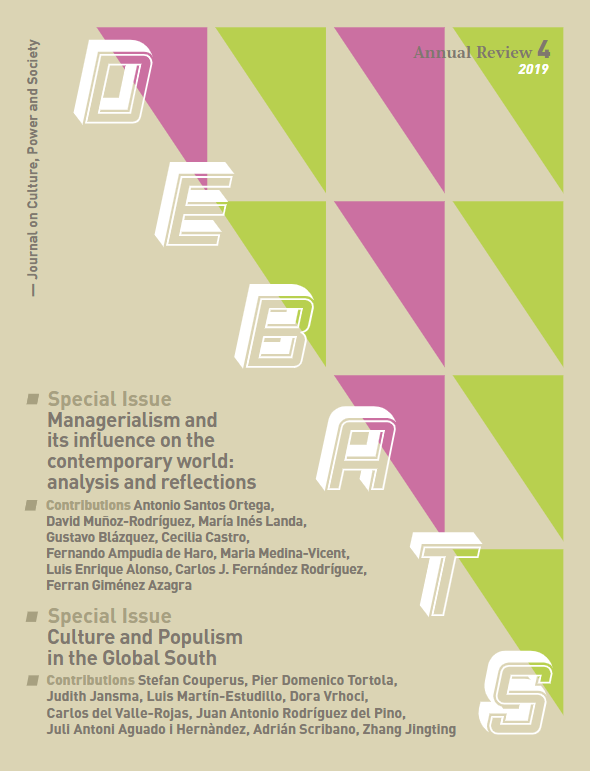 Com citar
Couperus, S., & Tortola, P. D. (2019). Right-wing populism's (ab)use of the past in Italy and the Netherlands. Debats. Revista De Cultura, Poder I Societat, 4. Retrieved from http://revistadebats.net/article/view/1816
Sense perjudici del que disposa l'article 52 de la Llei 22/1987 d'11 de novembre de Propietat Intel·lectual, BOE del 17 de novembre de 1987, i conforme a aquest, els/les autors o autores cedeix/en a títol gratuït els seus drets d'edició, publicació, distribució i venda sobre l'article, per tal que siga publicat a Debats. Revista sobre cultura, poder i societat.
Debats. Revista de cultura, poder i societat es publica sota el sistema de llicències Creative Commons segons la modalitat "Reconeixement – NoComercial (by-nc): Es permet la generació d'obres derivades sempre que no se'n faça un ús comercial. Tampoc no es pot fer servir l'obra original amb finalitats comercials".
Així, quan l'autor/a envia la seva col·laboració, accepta explícitament aquesta cessió de drets d'edició i de publicació. Igualment autoritza Debats. Revista de cultura, poder i societat la inclusió del seu treball en un fascicle de la revista perquè es puga distribuir i vendre.