The cult of the entrepreneur within the EU framework: The advance of an entrepreneurship activation model
Antonio Santos Ortega

David Muñoz Rodríguez
Resum
This paper approaches the concept of 'activation' by looking at the notion of what an entrepreneur is. At present, the entrepreneur is Neo-Liberalism's Poster Child and is enshrined in EU-2020 programmes. It should be noted that the diffusion of entrepreneurship is taking place against the background of two great changes in the social and employment fields. The first is the progressive corporatisation of wage labour, with a drive towards individualisation and taking responsibility — mainly in qualified jobs. The second is the blurring of boundaries in salaried work due to the
proliferation of new kinds of self-employment. Salaried work, especially for highly-skilled staff, is being re-cast in an entrepreneurial mould. This redefinition is forging new practices and archetypes that will transform the world of work. This paper therefore makes a deeper analysis of labour activation processes in the EU-2020 strategy through the idea of the entrepreneur.
##plugins.generic.usageStats.downloads##
##plugins.generic.usageStats.noStats##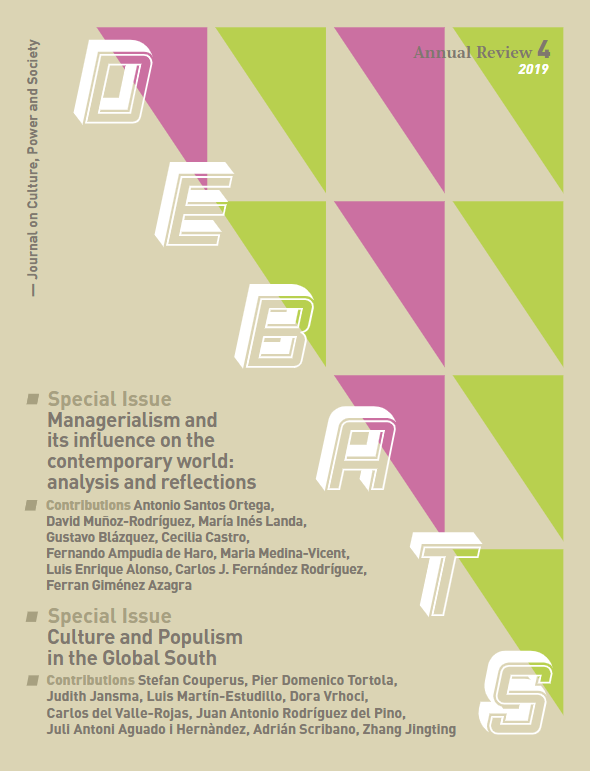 Com citar
Santos Ortega, A., & Muñoz Rodríguez, D. (2019). The cult of the entrepreneur within the EU framework: The advance of an entrepreneurship activation model. Debats. Revista De Cultura, Poder I Societat, 4. Retrieved from http://revistadebats.net/article/view/1810
Sense perjudici del que disposa l'article 52 de la Llei 22/1987 d'11 de novembre de Propietat Intel·lectual, BOE del 17 de novembre de 1987, i conforme a aquest, els/les autors o autores cedeix/en a títol gratuït els seus drets d'edició, publicació, distribució i venda sobre l'article, per tal que siga publicat a Debats. Revista sobre cultura, poder i societat.
Debats. Revista de cultura, poder i societat es publica sota el sistema de llicències Creative Commons segons la modalitat "Reconeixement – NoComercial (by-nc): Es permet la generació d'obres derivades sempre que no se'n faça un ús comercial. Tampoc no es pot fer servir l'obra original amb finalitats comercials".
Així, quan l'autor/a envia la seva col·laboració, accepta explícitament aquesta cessió de drets d'edició i de publicació. Igualment autoritza Debats. Revista de cultura, poder i societat la inclusió del seu treball en un fascicle de la revista perquè es puga distribuir i vendre.