The "French Model" and its "Crisis": Ambitions, Ambiguities and Challenges of a Cultural Policy
Vincent Dubois

Université de Strasbourg / Institut d''études politiques
Resum
French cultural policy is often regarded as a model. However, in
France, the crisis of national cultural policy has been endlessly
discussed since the 1980s. This disillusionment is partly due to overestimation
of the model's consistency from the outset. This paper
looks at the foundations of French cultural policy, showing that the
present difficulties stem from the model's foundational ambiguities
and contradictions. We thus offer a critical view of the legacy of a
policy that has been vigorously pursued over the last fifty years and
analyse the difficulties it currently faces and their roots. The paper
concludes with proposals for new ways of approaching these issues.


##plugins.generic.usageStats.downloads##
##plugins.generic.usageStats.noStats##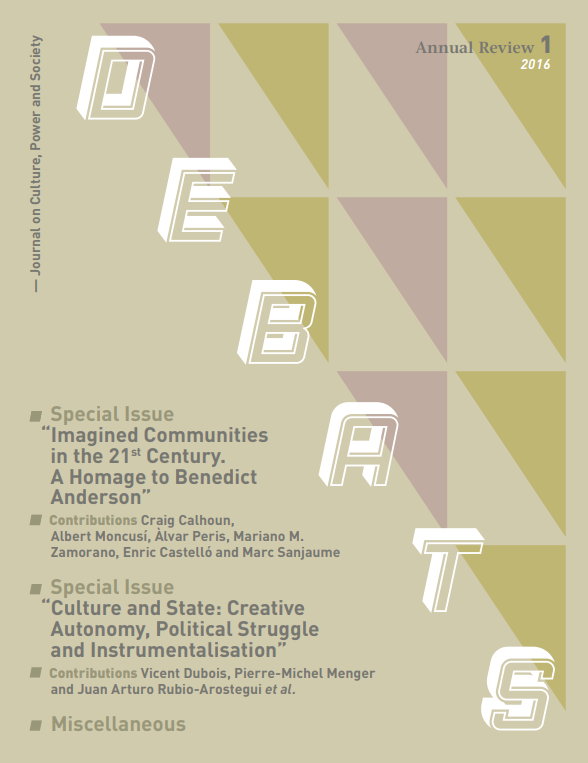 Com citar
Dubois, V. (2017) "The "French Model" and its "Crisis": Ambitions, Ambiguities and Challenges of a Cultural Policy", Debats. Revista de cultura, poder i societat, 10. Available at: http://revistadebats.net/article/view/1692 (Accessed: 18April2021).
Sense perjudici del que disposa l'article 52 de la Llei 22/1987 d'11 de novembre de Propietat Intel·lectual, BOE del 17 de novembre de 1987, i conforme a aquest, els/les autors o autores cedeix/en a títol gratuït els seus drets d'edició, publicació, distribució i venda sobre l'article, per tal que siga publicat a Debats. Revista sobre cultura, poder i societat.
Debats. Revista de cultura, poder i societat es publica sota el sistema de llicències Creative Commons segons la modalitat "Reconeixement – NoComercial (by-nc): Es permet la generació d'obres derivades sempre que no se'n faça un ús comercial. Tampoc no es pot fer servir l'obra original amb finalitats comercials".
Així, quan l'autor/a envia la seva col·laboració, accepta explícitament aquesta cessió de drets d'edició i de publicació. Igualment autoritza Debats. Revista de cultura, poder i societat la inclusió del seu treball en un fascicle de la revista perquè es puga distribuir i vendre.